Who Should Attend?
Who Should Attend?
Anyone interested in teaching economics at HE level (whether to economics or other students), especially:
- Lecturers in higher and further education
- Graduate teaching assistants
- Library and information staff
- Teaching support staff
- Staff developers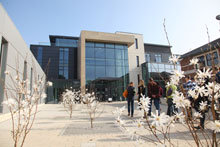 Our biennial international conference, Developments in Economics Education, took place on Thursday 5th and Friday 6th September 2013 at the University of Exeter's Business School.
Plenary speakers
The plenary speakers were three patrons of the Economics Network:
Recordings of the plenary sessions:
Twitter
We had a "Twitter wall" so that people could share their reactions to the conference as it happened. The full conversation is now available.
Photos
Our photos from the conference are now uploaded. If you have any that you'd like to share, please send them to Ashley.
Programme
Wed 4th September Collaborative Project Meeting programme.
Abstracts and presentations
Teaching Awards
We also presented the Economics Network Teaching Awards 2013 at the conference.
Back to top
Who Should Attend?
Anyone interested in teaching economics at HE level (whether to economics or other students), especially:
- Lecturers in higher and further education
- Graduate teaching assistants
- Library and information staff
- Teaching support staff
- Staff developers