6. Social media and facilitating contributions from students
Instructors are increasingly complementing their teaching resources with student input and collaboration using social media including virtual learning environments.[1] The advantage is that students can collaborate informally using their own portable devices. The advantage of social media inside and outside the classroom has been highlighted and described in Junco et al. (2011) and (2013).[2] Specifically, these contributions (using a control group) show that students exposed to social media became more engaged and performed better. The authors observed a positive effect of social media on the degree of collaboration among students. Figure 17 shows examples of tweets posted on a UG Macroeconomic Tweeter page as described in Middleditch and Moindrot (2015b).
Figure 17: the use of Twitter in a intermediate macroeconomics module as described in Middleditch and Moindrot (2015b).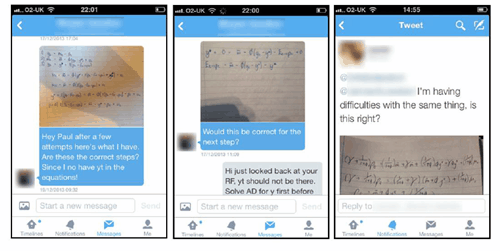 Enhanced collaboration among students is especially advantageous in a large module. Students may answer some of the questions posted by other students and contribute to the discussion. This should reduce the volume of queries to the teaching staff.
In this respect, social media can build a role for students as creators of resources. This role offers positive effects on their understanding of the subject and their communication and transferable skills.[3] Bahrani et al. (2016), for example, describe their experience introducing "Econ-selfies", photos where students are asked to highlight the intuition behind an economic concept. The interesting part of the practice is to motivate students to think in economics terms using a medium—the selfie—that they are very well-versed to produce and share. In the same spirit, Spielmann and Chaudhury (2016) describe the possibility of asking students to make an "economics movie".[4] When students are assessed on the production of a media file describing an example or an application of an economics concept, they are induced to think of the concept in very real terms.
An important message here is that it does not necessarily have to be the instructor who is the producer and distributor of media content. Students can be producers as well as consumers of these media.[5] In this sense, there are various benefits available. Instructors can obtain inspiration and ideas from students' work; students can access media made by other students, who presumably may have a closer sensitivity and connection to the topic and, commenting or sharing the material can make the process of learning more collaborative.