Martin Poulter, ICT Manager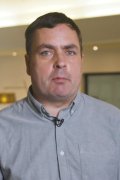 Martin has been with the Network and its predecessors since 1997. He is the content editor of this web site and also does coding and design. His content contributions include the Handbook chapter on Open Educational Resources and re-writing the Guide to Blogging in Economics.
His PhD was done at the Philosophy Department of the University of Bristol and involves applying decision theory to the choice of opinion, and also defending the descriptive role of decision theory as a framework for explaining and predicting behaviour.
Martin works part-time for the Network. In his other career he is an open education/ open access/ open data advocate.
Some things Martin has created:
Contact:
The best way to contact me is via email: m.l.poulter@bris.ac.uk .