Annual Learning and Teaching Awards 2009
The winners of the Learning and Teaching in Economics Awards have been announced. The scheme, run by the Economics Network, seeks to recognise and reward exemplary practice from within the academic economics community. This year's presentations were made by David Sadler of the HE Academy, during the conference dinner at DEE 2009 at the National Museum of Wales in Cardiff.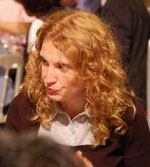 Melanie Jones
The Outstanding Teaching award was won by Swee-Hoon Chuah, Nottingham University Business School, Dr. Chuah is at an early stage in her career but has already created a very successful course on the Psychology of Economic and Business Decisions, winning stellar praise from students and colleagues for lectures, tutorials and online communication.
Commendations were given to Ian Jeffries, Swansea University and Melanie Jones, Swansea University.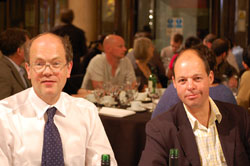 John Maloney and Andy Dickerson
Andy Dickerson of the University of Sheffield won this award. Prof. Dickerson uses copious examples from his own research in his undergraduate teaching, and has co-ordinated the introduction of summer research internships for year 2 students. He was praised for making lectures an interactive experience for students, via the use of break-out groups and a personal response system.
Commendations went to Paul Allanson, University of Dundee and Matteo Iannizzotto, University of Durham.
John Maloney, University of Exeter, was nominated both by his students and his HoD, receiving a special combined award. Prof. Maloney was praised for his wit, enthusiasm and for his skill at putting economic ideas into historical and policy context, which he applies across a range of different modules.
The eLearning award was given to Dieter Balkenborg and Todd Kaplan, University of Exeter for promoting classroom experiments using their FEELE laboratory. The judges acknowledge that not all academics have the benefit of the Exeter team's funding, but recognise that Balkenborg and Kaplan have promoted a truly transformative approach to economics learning, and made their work available to the whole community by running their online service and by donating their documentation to Wikiversity.
The awards and commendations are worth £250 and £50.