Our biennial DEE conference took place at the University of Birmingham on the 10th and 11th September 2015.
The DEE conference is the UK's leading conference on economics education. Sessions at the conference include paper presentations and interactive workshops which introduce new and innovative ideas on teaching and learning methods, the economics curriculum and student engagement.

Conference venue: University House, University of Birmingham, 116 Edgbaston Park Road, Birmingham, B15 2TY
Keynote speakers
Programme, abstracts and presentations
Report
The Economics Network's eighth biennial Developments in Economics Education conference took place in September at the University of Birmingham's Business School. We welcomed over a hundred delegates from universities across the UK as well as Australia, Italy, Germany, Norway, Poland, Spain and the United States.
The conference opened with the Network's 'Year in Teaching' special session, followed by a welcome drinks reception sponsored by Oxford University Press. In the special session we presented our research from 2015, including the report on trends in economics education, the results of the 2015 employers' survey and an update on the main developments and themes in economics teaching and learning over the last year. Each of these reports can be found on our website.
Within the main conference, there were seven parallel sessions which included both paper presentations and more interactive workshops. The range of topics and the quality of presentations at this year's conference were impressive. Amongst others, delegates could attend sessions on: measuring student learning, assessing the benefit of online resources, teaching quantitative methods, effective feedback, using social media in teaching, publishing in economics education, peer-learning, self-assessment, skills development, flipped classrooms, designing effective assessment, plagiarism, and curriculum content and reform. Many of the slides from these sessions, as well as the full programme, are available through the links above.
We were delighted to also have exceptional keynote speakers at this year's conference. Daniel Franklin, Executive Editor of The Economist, gave a talk inspired by his publication's 'The world if' series entitled 'The world if economics was not so dismal', where he discussed changes that might be made to improve economics as a discipline, including: less emphasis on theory and more on evidence, improvements in the quality and range of economic data available, more teaching of economics through a historical lens and more links between economics at university and the 'real-world'.
Our second keynote speaker was Paul Johnson, Director of the Institute for Fiscal Studies, who spoke about funding higher education. In particular, Paul looked at the impact of funding reforms on student debt and the implications for graduates, concluding that there has been too much change and uncertainty, especially around maintenance grants and support for poorer students, and that with no risk sharing by HEIs, the cost of removing the student number cap is likely to be significant.
As with every DEE conference, delegates found meeting and sharing ideas with other economists who are committed to improving and innovating teaching extremely useful. Indeed, this is always reflected in the feedback we receive on the conference, which this year included: "a great atmosphere and a sense of shared genuine interest in the content covered" and "fantastic conference to meet people with shared interests, it has a real impact on my teaching".
A particular highlight of this year's conference, which must be mentioned, was the conference dinner and quiz which was expertly and very entertainingly compèred by Martin Poulter. If you missed it... be sure to come along to DEE in 2017!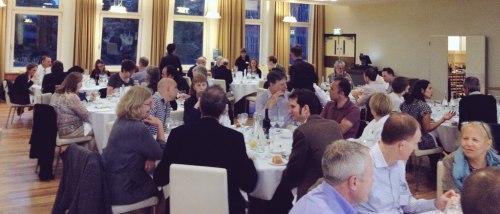 Feedback from DEE 2015:
The sessions were of a very high standard, the best of all the seven DEE conferences I have attended

Fantastic conference, it has a real impact on my teaching and learning

Thoroughly interesting, thought provoking and enjoyable
Banner image adapted from a photograph by Matt Buck via Wikimedia Commons, CC-BY-SA
Who Should Attend?
Anyone interested in teaching economics at HE level (whether to economics or other students), especially:
- Lecturers in higher and further education
- Graduate teaching assistants
- Library and information staff
- Teaching support staff
- Staff developers