Video Case Study: Making tutorials with screen capture software
Russell Stannard is the creator of the hugely successful sites TeacherTrainingVideos.com and MultimediaTrainingVideos.com, and recently won the Times Higher award for "Outstanding Initiative in ICT".
Screen capture software allows the user to record actions that take place on their computer screen. It is rather like having a camera pointed directly at your computer screen with a microphone attached. It will record all your screen actions in the form of a video which can then be played, paused and rewound.
Most of the products offer additional features too. So you can highlight items on your screen, draw on the screen, zoom into specific areas and write on the screen etc. All this can be done while making a recording. Some packages also offer an additional set of tools that can only be added at the editing stage. These include callouts, subtitles, opening captions etc. This video shows some of the best features of Camtasia, which is one of the most popular products on the market.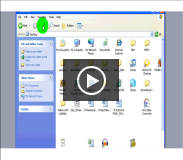 The educational uses of this technology are incredibly varied. Here are some examples of some of the things that can be done.
It can be used to record a PowerPoint presentation. If you use the product "Camtasia" by Techsmith then it actually adds a button onto the PowerPoint interface that you simply click to record your presentations. Several of the other products also offer this feature, though not all to them.

You can use it for feedback. Imagine you open up your student's essay, calculation or report onto the screen. You can begin to correct it. You can highlight problems with it, talk, write on the screen etc. You can then send the resulting video back to the students who have a "live" recording of their work being corrected. Stannard has shown that students find the feedback much clearer and that a lot more information can be provided because the tutor can talk and mark on the screen at the same time.

You can use it to improve your presentations. You might for example want to highlight a certain website that you want your students to look at. You can make a Screen Capture Video that highlights the site and encourages the students to look at it. You can then load it onto the VLE in the University or add it into your PowerPoint presentations. Here for example a teacher is pointing out to the students a website of the company that the students on a multimedia course are going to produce a product for. The teacher wants to highlight special features on the site. Here is an example, it is quite a large video and may take a few moments to download.

You can use it to make recordings that go through the answers to a test. This way you don't have to go through the answers in the class. The students can play back the video where you explain the correct answers to all the questions.
If a marking scheme or a question is complex, you can use a recording to explain it in more detail. Simply open up the marking scheme and record yourself. This is very useful reference material to the students as they can refer to the video at anytime. This is especially useful when you have lots of detail in your question and when you have graphs and tables you want the students to focus on.

The most common use for the product is to use it to show students and staff how to use technology. TeacherTrainingVideos.com is a good example of this. It provides screen capture walkthroughs to a whole variety of tools that teachers can use when teaching. Many libraries and learning centres are becoming very interested in this idea. It can be used to create walkthroughs on how to use the library information systems, how to access journals and how to use your Athens account.

Two very popular sets of training videos for lecturers from the TeacherTrainingVideos.com site are: How to use Blogger and How to use Blackboard
From a pedagogical point of view, there are clear benefits to using screen capture software. Richard Mayer's work compared various forms of presentation, including text and pictures, text alone, text and animation and finally commentary and animation. Mayer found that students retained more information when a combination of commentary and animation was used. This closely matches the presentation format that a Camtasia screen capture video includes (i.e. a combination of screen actions and commentary).
Other researchers and writers have looked at issues such as learning styles (Gardner). It is clear that a method that combines both sound and visuals will appeal to a great variety of learning styles than information that is presented through text and pictures. Indeed, students' feedback in questionnaires describes the videos are more "enjoyable" and "engaging". One of the features that students constantly allude to is the fact that demonstrations in class normally only take place once, whereas the videos can be played over and over, or paused and rewound. Students can therefore learn at their own pace. Students find the feedback videos especially useful as they can refer to them when next writing an essay or doing a presentation.
Special needs groups have also found the use of screen capture software beneficial. Camtasia, for example, allows you to zoom and pan on the screen, add subtitles, increase the volume of the recording and add call-outs onto the screen to focus on different areas of the video. If the tutor has a webcam then this can also be added. This means as well as the screen capture taking place, the students can actually see the tutor talking as well. This same feature could be used to record a person using the British Sign Language at the same time as producing the screen capture.
References
[1] Gardner, Howard (1983) Frames of Mind: The Theory of Multiple Intelligences cited in Thomas Armstrong (2000) "Multiple Intelligences" (online)
[2] Mayer, Richard E. (2001) Multimedia Learning. Cambridge University Press
[3] Stannard, Russell (2007) "Using Screen Capture Software in Student Feedback". English Subject Centre of the HE Academy