Case study 5: University E
University E follows a 6 unit per year structure with students being strongly encouraged to take a year out in year 3 either for a work placement or to spend a year abroad. Figure 7 illustrates the structure.
Figure 7: University E: a single honours economics programme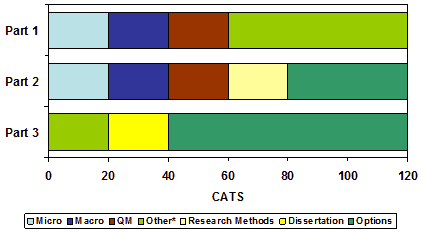 Other: Part 1: modules in Understanding Business & Financial Information, Developing Economic Thinking and Becoming a Practical Economist; in Part 3: a module in Economic Theory and Policy (including Managing Individual Change).
Part 1 offers no choices for students on this programme. Half of Part 1 is devoted to units in micro, macro and QM; other units have a strong vocational flavour, setting economics in perspective and highlighting the practical skills that economics provides, whilst also emphasising the importance of understanding business and financial information. These units begin to prepare students for possible work placements that they may take up as their third year of the programme. Part 2 provides more units in micro, macro and QM, plus a research methods unit which helps in preparation for the compulsory dissertation or applied project that comes in Part 3. In Part 2, students also choose one specialist economics unit in each semester. Part 3 creates more flexibility to select specialist economics units.
Again, the placement year, whilst not compulsory, provides a strong employability focus to the degree programme which may be attractive to students who wish to pursue a career as an economist. The school provides a placement team to support students in finding an appropriate placement and in monitoring progress during the placement year. Students are required to complete a portfolio whilst working to provide evidence for employers of the work experience gained. Those who choose not to undertake the placement are encouraged to gain work experience through internships, paid work or through volunteering.