Case study 3: University C
University C offers an interesting approach that blends units with different credit ratings. The structure is illustrated in Figure 5.
Figure 5: University C: a single honours economics programme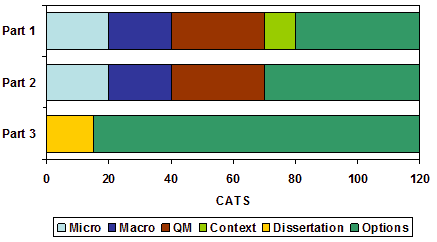 plus non-credit-bearing modules in Study skills (Part 1) and Careers skills (Part 2).
In Part 1, students follow 20 CATS-rated units in micro and macro, together with two 15 CATS-rated units in QM, streamed depending on whether a student has or has not taken A-level Mathematics. Students then take a 10 CATS unit, with a choice between 'Economic Perspectives' and 'Current Economic Issues', allowing students to gain a broader perspective on the use of economic analysis. Remaining credits come from a choice of options either in Economics or from other schools. These are mainly 10 CATS, but some are 20. In addition students take a unit that provides study skills, which is not credit-rated.
In Part 2, there are compulsory units in micro (20 CATS) and macro (20 CATS), together with either 2 units in quantitative economics (15 CATS each) or econometrics (also 15 CATS each). There is also a compulsory non-credit-bearing unit in careers skills. Remaining credits are then built up from Economics or from other schools, with individual options carrying 10 CATS. In Part 3, students undertake a dissertation or project (15 CATS) and then choose from a list of Economics options, each rated at 15 CATS.
This more complex curriculum design (in terms of the credit architecture) offers flexibility in approach, but may be less transparent in the sense that students have to take units that carry different weightings and have different numbers of lectures and tutorials associated with them. The mixed pattern only works if the mix is repeated across schools, otherwise it becomes difficult for students to select units in other disciplines – if they wish to do this, of course.
Another feature worth noting is the inclusion in the design of non-credit-bearing units covering study and career skills. Introducing study skills to students can be crucial in helping them to make the transition into university study. Students arrive from school or college with expectations about modes of learning and forms of feedback that we cannot fulfil – and, in many cases, are inconsistent with them becoming independent and reflective learners. At a workshop at my university, an A-level teacher from a local college told us that she would never be allowed to talk in a lesson for more than 10 minutes at a time, nor would she ask her students to read more than a few pages at one sitting. Coming from that into an environment where students are expected to sit in lectures and then go off and read articles and chapters of books requires a major adjustment. The career skills unit highlights the importance of employability in a rapidly changing fee environment.
The question in curriculum design is whether to integrate such skills development into the formal curriculum and make it credit-bearing, or to follow the example of University C and require all students to take the units, but have them sitting alongside the curriculum. There is a tendency to see such skills development as being 'unacademic' in quality, and thus not worthy of carrying credit. On the other hand, if such units do not carry credit, do students have an incentive to take them seriously?