Case study 1: University A
University A operates a curriculum based on a pattern of 6 units per year carrying a weighting of 20 CATS taught on a long-thin basis. Figure 1 summarises the broad structure of the programme.
Figure 1: University A: a single honours economics programme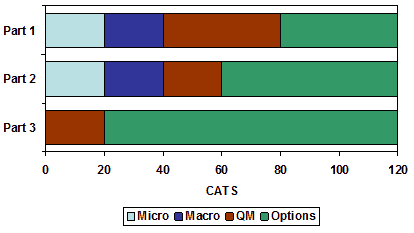 The structure of the curriculum is very clear. In Part 1, students take 1 unit each in micro and macro, and 2 units in quantitative methods (one in maths, one in statistics). The remaining credits are made up from optional units; students can take Introduction of Accounting and/or Globalisation and Development (20 CATS units), or can choose to take open units from elsewhere in the university (subject to timetable). These can be drawn from a wide range of other disciplines.
In Part 2, students again take compulsory units in micro, macro and quantitative methods, which between them count for 50 per cent of the credits. The remaining units are chosen from a list of options, including a range of economics units together with some from accounting, finance, politics and other disciplines.
In Part 3, the only compulsory unit is Applied Econometrics, but students must take at least two from Macroeconomic Theory and Policy, Advanced Microeconomics or Applied Economics Project. A range of economics units are also on offer, and students may take up to 2 units from lists in accounting and management.
A strength of this modular structure is its transparency. The curriculum design allows students some flexibility of choice throughout the programme, whilst ensuring that the core of the programme delivers the programme outcomes required by the subject benchmarks. Notice that students have some control over the theory-applied balance of their programme, exercised through their choice of options.
Students can also choose from a number of joint honours programmes, combining study of economics with Econometrics, Finance, Accounting, Management, Mathematics, Politics or Philosophy.& The pattern for one such programme is shown in Figure 2.
Figure 2: University A: a joint economics programme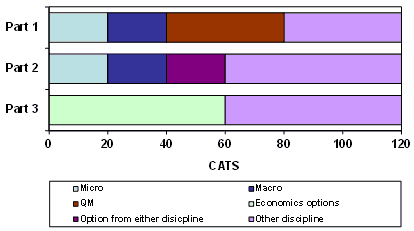 Joint honours programmes need careful curriculum design, as there are two sets of subject benchmarks to be delivered. This inevitably imposes constraints on student choice, as there is likely to be less space for optional units. This is apparent in Part 1 of this joint programme, as there is no choice of units at this stage of the programme. Furthermore, economics as a discipline tends to be demanding in terms of core units in Part 1, given the need to cover micro, macro, maths and stats. In this example based on a 6-unit year, these 4 units take up more than half of the first year, thus squeezing the other discipline.
The notion of an 'escape route' embedded in Part 1 (as mentioned in the previous section) can be illustrated through this example. A student entering the single-honours programme could choose the options in Part 1 in such a way as to cover the core units needed for the other discipline of one of the joint-honours programmes, whether that be Politics, or Management etc. The final decision on which programme to pursue is thus delayed until the end of Part 1, so that if a student discovers a keen interest in Politics once having been exposed to the discipline, then he or she would be able to transfer to the alternative stream. It is also important to notice that providing an escape route can work both ways: the structure described here provides a route into single-honours economics as well as out.