Annual Learning & Teaching Awards 2011
The Economics Network is pleased to announce the winners of its Learning and Teaching Awards for 2011. We received an unprecedented number of nominations in all categories with all nominations showing innovative, engaging and excellent teaching practice.
Outstanding Teaching Award
The winner of the Outstanding Teaching Award is Steven Cook from Swansea University. Since September 2010, funded by an Economics Network learning and teaching project, Steve has introduced a new Applied Econometrics module to final year students which delivers and assesses econometrics in a very practical manner to closely reflect the nature of the discipline. Prof Alan Speight, Swansea's PVC for education, stated 'Steve is to be commended for his efforts in developing a module which demonstrates the practical relevance of a difficult and sometimes inaccessible subject, [which] has led to the creation of a range of subject-specific and transferable skills, and has increased student engagement.'
Commendations for the Outstanding Teaching Award have been awarded to Caroline Joll from Cardiff University and 'the EC307 Development Economics team' (Oriana Bandiera, Greg Fischer, Michael Best and Tara Mitchell) from the London School of Economics and Political Science. Caroline 'strives to make sure every single member of her class understands the topic at hands and consistently receives excellent student feedback.
The EC307 team have developed an exemplary research-led module which means 'the textbook remains in the background [instead] journal articles and focused topics are carefully selected so that students are plunged into the current literature in an exciting way.
Student Nominated Award
The Student Nominated Award has been awarded to David McCausland from the University of Aberdeen and Chris Jones from Aston University.
David's students commented on his ability to make difficult concepts easier to understand; 'has led with his example, never refused to help a student, provided extensive feedback and consistently worked hard in providing personal comments on our work and ways to improve, always in a positive manner."
Chris' enthusiasm for economics and his ability to express this clearly was apparent in all of the students comments. Professor Nigel Driffield, Head of Economics at Aston said 'I have never seen anyone with the same drive for excellence in teaching as Dr Chris Jones… It is clear that the students are very engaged with his teaching. I observed a session of his and was amazed to see all the students sitting at the front – not spread out at the back as is often the case."
Commendations were awarded to Neil Rickman from the University of Surrey, Steven McIntosh from the University of Sheffield, Peter Sinclair from the University of Birmingham and Michael Walsh from Coventry University.
Students commented that 'Neil Rickman's lecture is an experience that shouldn't be missed. He is energetic, excited about his subject and so, most importantly, his students want to listen and learn '.
Steven McIntosh's engagement with students has already been recognised by the University of Sheffield as he was awarded the departmental teaching award in 2011. His students said "Steve is a wonderful lecturer, seminar leader, and personal tutor. He provides a great deal of moral support for his personal tutees and is always willing to support other students academically."
Peter Sinclair from the University of Birmingham has been lecturing for over 40 years, often dedicating his own free time to further help students. Prof Rob Elliot, Head of Department at Birmingham said "Peter Sinclair has contributed enormously through his teaching, supervision and examining to economics in the UK for over forty years. His contributions have exceeded by a considerable margin anything which might be considered reasonable."
Students commented; "from using the music industry and Microsoft to explain monopolies to encompassing the link between Burberry and 'chavs' to explain supply, demand and elasticity, Michael definitely explores all possible avenues in order to be an effective teacher."
eLearning award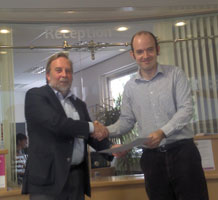 John Gathergood (right) receives his award from Prof. Chris Milner, Head of School.
The eLearning award has been awarded to John Gathergood from the University of Nottingham particularly for his innovative use of technology in the classroom. Professor Chris Milner, Head of Department at Nottingham, said "in class lecture delivery is supported by video podcasts of lectures and interactive video tutorials and practical exercises. All lectures, lecture previews, add-ons and recitations are videoed and made available via Microsoft Silverlight for browsing, plus available for use on multiple platforms and smartphones".
Richard Wiseman and Susan Noble from Mimas (Manchester InforMation and Associated Services) were awarded a commendation for creation of the ESDS international teaching tools.
Congratulations to all of our award winners.
Coverage
Back to top