Annual Learning and Teaching Awards 2003 Results
The centre received a record number of nominations across the three categories of Outstanding Teaching, Outstanding Electronic Resource and Student Nominated. The judging panel expressed their delight at both the number of and the high quality of nominations. Winners each receive £250 in WHSmith vouchers. Some of them attended the Developments in Economics and Business Education (DEBE) conference at Heriot-Watt University, Edinburgh in September 2003 as guests of honour, where they received presentations from the Director of Economics LTSN, John Sloman.
The award for Outstanding Teaching was shared between Dr Fiona Carmichael at the University of Salford and Professor Geraint Johnes at Lancaster University. Dr Carmichael was awarded the prize because of her innovative approach to a Year 3 Strategy and Risk module. Some of the comments from the judging panel included:
"I really felt that this was someone who had taken on board what they had learnt throughout their teacher training and applied it with gusto to their academics classes."
"I was very impressed with Fiona Carmichael's diverse and innovative approach to teaching. In particular, her emphasis on student participation using imaginative techniques such as hypothetical experiments and video material."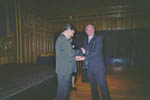 Professor Johnes was recognised for his both his successful teaching and his enormous contribution to the department. The judging panel commented that:
"It is all the more impressive when someone who has been trained in the traditional way, long before the current emphasis on innovative teaching, should exhibit excellent innovative and reflective learning opportunities that have a significant impact on students' learning experience."
"The emphasis on student progression and the commitment to the development of his and his colleagues teaching skills is most impressive."
The panel also awarded two special commendations to Dr Paul Latreille at the University of Swansea and Dr Peter Smith at the University of Southampton.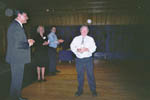 The Electronic Resource Award went to Douglas Chalmers of Glasgow Caledonian University for integrating Blackboard into his Economies, Markets and Enterprise first-year course; hosting partial lecture notes, revision "Mind-maps" and compulsory student discussions.
Two sets of electronic resources received commendations. Dr Jon Seaton of Loughborough University created 8000 pages of supporting materials for two second-year microeconomics modules. Seaton was responsible for content and design, as well as the program which generated the pages from Word documents. A team from the Open University (Chris Downs, Neil Costello, Martin Higginson, Dr Judith Metha and Heldey Stone) created CD-ROMs of materials for a distance-learning introductory undergraduate economics course. With a very high standard of presentation, these tutorials combine audio and textual commentary with interactive graphs and questions.
Many students responded to the centre's call to nominate their lecturers for the award. Some candidates were nominated by more than one group of students. Students expressed their gratitude to all their lecturers for the hard work they do and to the centre for providing an opportunity for the best lecturers to get recognition.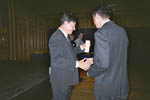 The student nominated award was shared between Guglielmo Volpe of London Metropolitan University and Jeremy Edwards of Cambridge University. The judging panel commented that Volpe "...sacrificed considerable personal time and resources in order to inspire and motivate students to reach their potential";
"...the very important service of 'being there' when needed as strongly demonstrated by Volpe";
"...clear that Dr. Volpe has had an important positive impact on student's development".
Some of the comments of the judging panel regarding Edwards included:
"...with the pressure on Jeremy to undertake and exhibit high performance in research, it is impressive how (he) continues to perform the teaching role";
"...Jeremy Edwards has invested a great deal of time and effort through the teaching of classes as well as lectures and organising extra question and answer meetings".
The panel also awarded special commendations to Alice Sindzingre and Andre Noor from SOAS and David Hendry from Oxford University.