Volume 12, Issue 1, 1998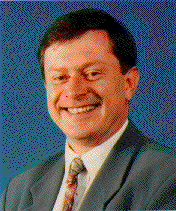 Editorial

Welcome to this, the latest issue of CHEER.
As you will see from the cover we have a new expanded Editorial Board, including Associate Editors Arnie Katz, Betty Blecha and Tod Porter from the USA, and Rob Dumsday and Iain Fraser from Australia. This addition of overseas editors reflects the growing international nature of CHEER's authors and readers. I hope to add a couple more names to the list later in the year.
Welcome too to Sally McAllister who has taken over from Ros O'Leary.as the CTI Economics Centre manager and on the CHEER Board. For those of you who don't know, Ros gave birth to a baby boy, Harry, just before Christmas. Both are doing well. After her maternity leave she will rejoin the ILRT staff in a different role, but I hope that from time to time she will be able to contribute to CHEER.
In this issue we have four refereed papers. Holger Paetow shows how a spreadsheet package such as Excel can be used to simulate the long-run market dynamics of an industry. By now CHEER readers will have recognised the potential for teaching of working with spreadsheet models that have easily changeable parameters values and graphical illustrations of relationships, but it is still interesting to see new variations on this theme. Michel Deslierres' paper looks at the use of Bezier curves for economic applications, in particular how to program them in Java.
The other two papers both provide assessments of experiences in using CAL material in the classroom. A team from the University of Glamorgan (Brooksbank et al) review the experience of using WinEcon in teaching first year undergraduates, while Cher Ping Lim reports on a study he has undertaken of the use of WinEcon, together with some use of the Internet, at a Junior College in Singapore.
The Short Notes and Reports section includes a brief introduction from Sally McAllister, a description of the new REGARD service from Sue Timmis and a report of the CAL sessions at the ASSA meetings in Chicago from me.
Chris Reid reviews the new SECOS4 for Windows and Simon Mardle reviews a book on Mathematics with Mathcad.
I hope you find this issue of CHEER interesting and useful. Don't forget to send articles, short notes, reports or reviews to me for the next issue of CHEER.
Cheers!
Guy Judge

Department of Economics, University of Portsmouth
The next issue of CHEER, Volume 12 Issue 2, will be published in September 1998.
Material to be considered for publication should be sent to me by the end of May 1998. All submissions should be in a well recognised electronic format (preferably MS Word or WordPerfect files with graphics files in .gif format). They should be sent on disk to my address here at Portsmouth or as e-mail file attachments to guy.judge@port.ac.uk. Contact me by e-mail first if you are unsure whether the format you wish to use will be acceptable.