Volume 12, Issue 1, 1998

REGARD: A New Service Offering Internet Access to Social Science Research
Sue Timmis

Institute for Learning and Research Technology, University of Bristol
Introduction
Are you interested in social science research? Would you like desktop access to detailed information on research grants and publications? Then, take a look at REGARD, available at http://www.regard.ac.uk/
REGARD is a fully functional bibliographic database of ESRC (Economic and Social Research Council) research awards and all associated publications and products. It is publicly available on the World Wide Web without subscription and uses keyword searching for maximum ease of use.
REGARD contains in-depth details of ESRC awards including:
award holders' names and institutions
amounts awarded
dates
research abstracts
all associated publications and products
Background
The ESRC have provided access to their data on awards since the early eighties, previously through the RAPID service run by the University of Edinburgh. The service has now been replaced by REGARD and made available over the World Wide Web. It has the advantage of wide public access and a graphical user interface accompanied by a large dataset, containing approximately 55,000 records. This makes searching the database not only straightforward, but also very productive, as the range of research topics is so wide.
The database contains two types of records: awards and products. Award records contain details of the ESRC award, including the title, names of award holders, institution and department of the main award holder, award dates and amount. The record also contains an abstract to provide further details on the research. Product records include details of all associated publications and products. The product types are very broad, ranging from refereed journals and books to software, newspaper articles, radio and TV broadcasts. In fact, anything which is a research output can be included. Awards and products are linked together by the award reference number and users can "toggle" between the award record and its associated products using a hyperlink.
Easy-to-use and interactive interface
Simple keyword searching allows you to search the REGARD database for records which match your own topics of interest, find out who else is working in your field, what research is in progress and what research results are available. There are two levels of searching available - the Quick Search and the Concept Search.
The Quick Search allows you to enter one or more keywords, select what you want to search on from a drop down box and then click on the Search button to submit your search. The default is to search subjects, which includes all fields and the abstract.
Figure 1: The REGARD Quick Search Screen
In Figure 1 the keywords welfare reform have been entered. You can also choose to search for all or any of the keywords you have entered. Here we have chosen to search for records containing all the keywords listed. Once your search has been processed, the results will be displayed in the Brief Search Results screen, which provides a short summary of each record. (see Figure 2 below). The full results can then be displayed by making a simple selection.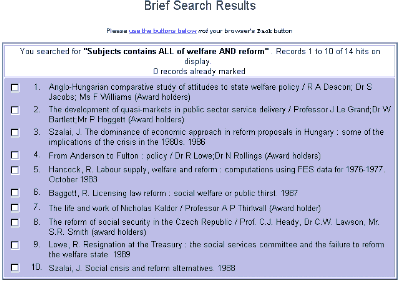 Figure 2: The REGARD Brief Search Results Screen
The Concept Search can be used for more specific searches. It allows you to combine your search terms and selected search elements.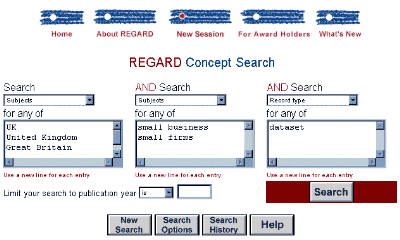 Figure 3: The REGARD Concept Search Screen
In Figure 3, the search submitted will look for records where any item in the first box is combined with any item in the second box and must contain record type "dataset". You can also restrict the publication year for products using the concept search.
Hyperlinks
Below is an example from a search to find research records on the labour market in Russia. Firstly, the keywords are entered using the Quick Search, as before. (See Figure 4 below.)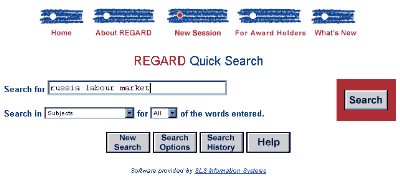 Figure 4: The REGARD Quick Search Screen
This search will produce Brief Search Results as before. You can select which records from the list you want to see in full (see Figure 5 below). You can select awards or products or both, depending on your interest. This shows an award record, which gives details of the award, dates amount etc. It also shows you the research abstract, providing an overview of the project and its aims. In addition to the abstract, when a project establishes its own Website, REGARD will add a link to the record to enable users to explore the research project at first hand if they so wish. You will see the URL link highlighted at the bottom of the screen in Figure 5.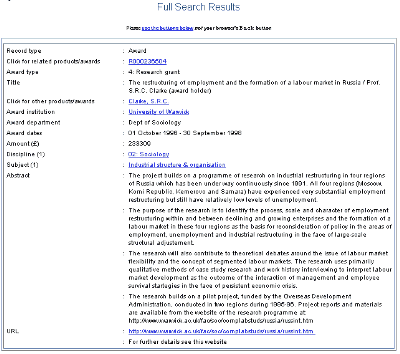 Figure 5: The REGARD Full Search Results Screen
Records also contain other hyperlinks. You can build on an initial search by using these hyperlinks to initiate new searches dynamically on award holders, authors, institutions, award numbers and ESRC subject and discipline terms without having to return to the search forms. This makes REGARD a highly interactive and non-linear environment, in line with the general principles of the World Wide Web.
REGARD also includes a feature to track the searches that you have made. A search history is automatically created, allowing you to recall previous searches from the current session. You can also print or download results using the standard tools available with your Web Browser. Online help is available from all the search screens and a help desk operates to assist with further enquiries (contact regard-help@bristol.ac.uk). Over time, as we gather more feedback on the service, we will also develop a FAQ (Frequently Asked Questions) list and other resources to help and support the user.
Research Data
REGARD relies upon the ESRC and award holders themselves to supply the relevant information related to their awards to keep the database up-to-date and current. This means that award holders need to inform us when a journal has been published, when a training course or conference has been held or a Website goes live. To make it easier for award holders to submit details about their awards and associated publications and products, we have created a number of submission forms on the Website. The For Award Holders button on the Home page takes you to these forms. Full instructions and help are provided. This method of submitting information is proving very popular already. However, REGARD will continually review these methods to ensure that we assist award holders as much as possible in this area.
The People's Database?
REGARD has an obvious appeal amongst the higher education sector where research is a day-to-day activity and the usefulness of good resources is self-evident. However, because it is an Internet-based service, REGARD has the potential to make academic research in the social sciences available to everyone and not to remain confined to an academic audience. Both the ESRC and REGARD are keen to broaden the appeal of the database and encourage its use amongst the media, commercial, public, government and voluntary organizations.
Future Developments
REGARD will be running training courses and seminars to maximise the use of the service. Further details are available on request. We will also be establishing a "virtual" user group to ensure that REGARD stays close to the needs and requirements of those using the service. We would like to hear from anyone interested in joining the user group or who has comments or suggestions regarding the service.
The author may be contacted at:
REGARD
The Institute for Learning and Research Technology
University of Bristol
8 Woodland Road
Bristol BS8 1TN
Telephone: +44(0)117 928 8466
Fax:+44(0)117 928 7112
Email: Sue.Timmis@bristol.ac.uk
URL: http://www.regard.ac.uk/