DeSTRESS Film 9: Decision Analysis: Uncertainty and Climate Change
You are here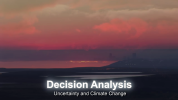 Film 9: Decision Analysis: Uncertainty and Climate Change (25'36")
This film uses the question of a policy response to climate change as an example of decision making using a regret matrix. It also illustrates Present Value calculations.
Watch this film on YouTube
High-quality download (826 MB)
The DeSTRESS films are presented by Ken Heather of the University of Portsmouth and produced by StreamLearn LLC.
Related questions