DeSTRESS Film 8: Developing Index Numbers
You are here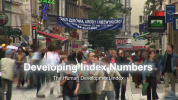 Film 8: Developing Index Numbers: The Human Development Index (19'39")
This film examines how we compare the well-being of people in different societies. It discusses, with examples, the Human Development Index (HDI) and its components.
Watch this film on YouTube
High-quality download (618 MB)
Interviewees:
Greg Harms: Executive Director, Boulder Shelter for the Homeless
Rene Brodeur: Director of Programs, Boulder Shelter for the Homeless
Gary Becker: Professor of Economics, University of Chicago; Nobel laureate
The DeSTRESS films are presented by Ken Heather of the University of Portsmouth and produced by StreamLearn LLC.