DeSTRESS Film 5: Variance and Standard Deviation
You are here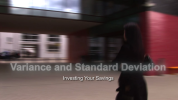 Film 5: Variance and Standard Deviation: Investing Your Savings (19'43")
This film talks about variation in the context of different ways of saving for the future, and in the context of the varying output of a firm. It explains step-by-step the formula for standard deviation as well as related formulae.
Watch this film on YouTube
High-quality download (784 MB)
Interviewees
David Blake: Private Client Fund Manager, Jupiter Asset Management Ltd.
Wendy Hayes: Law student, University of Portsmouth
The DeSTRESS films are presented by Ken Heather of the University of Portsmouth and produced by StreamLearn LLC.
Related questions