DeSTRESS Film 2: Understanding Formulae: The Middleman
You are here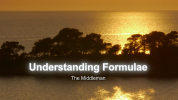 Film 2: Understanding Formulae: The Middleman (15'16")
The middleman is often thought of as a useless parasite who charges fees for unnecessary services. By using a simple formula this film shows how a 'middleman" can be very productive by minimizing transactions costs.
Watch this film on YouTube
High-quality download (640 MB)
Note: this film contains some short extracts from television adverts, for the purposes of critique. Their copyright remains with the original owners and they are not part of the video's freely remixable, Creative Commons-licensed content.
The DeSTRESS films are presented by Ken Heather of the University of Portsmouth and produced by StreamLearn LLC.
Related questions