DeSTRESS Film 17: Turnover and Correlation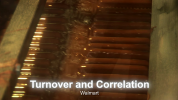 Film 17: Turnover and Correlation (10'28")
This film looks at why some firms grow very large while others stay small, discussing the role of stochastic (chance) processes. It considers the example of Wal-Mart, and the effects of the giant supermarket chain on local economies. The on-screen calculation shows how the Pearson Product-Moment Correlation Coefficient is calculated.
Watch this film on YouTube
High-quality download (285 MB)
Presented by Ken Heather of the University of Portsmouth and produced by StreamLearn LLC.
Interview subjects:
Gary Becker, Professor of Economics, University of Chicago, Nobel laureate
Related questions