DeSTRESS Film 14: Voting and Sampling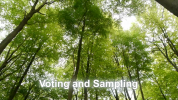 Film 14: Voting and Sampling (14'23")
This film examines methodologies used in sampling and polling. Most of the footage was taken at a County Council election in Basingstoke. The film also looks at the pollination of glacial lilies affected by climate change as an example of sampling.
Watch this film on YouTube
High-quality download (539 MB)
The DeSTRESS films are presented by Ken Heather of the University of Portsmouth and produced by StreamLearn LLC.