DeSTRESS Film 10: The Chebyshev Theorem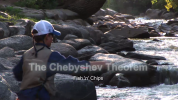 Film 10: The Chebyshev Theorem: Fish 'n' Chips (11'48")
This film uses an Icelandic fish processing plant and a market research firm as examples of how the mean and standard deviation, in conjunction with Chebyshev's Theorem, help people understand variation and control costs and quality.
Watch this film on YouTube
High-quality download (519 MB)
Interviewed in this video:
Elisa Richards, Director, Maritz Research Ltd.
Presented by Ken Heather of the University of Portsmouth and produced by StreamLearn LLC.
Related questions