The Handbook
for Economics Lecturers
The context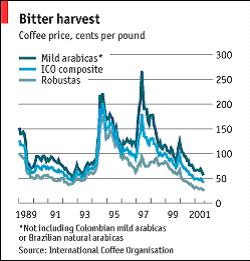 Figure 1
Image source:
http://economist.com/PrinterFriendly.cfm ?Story_ID=797619
The coffee industry has been experiencing significant difficulties in recent times, prices tumbling to all-time lows in real terms during 2002 (see Figure 1). This has caused considerable hardship for coffee producers around the world, but at long last there appears to be good news. After four years of record low prices, the International Coffee Organisation (ICO) composite price index shows average prices to be trending upwards. From an average price of 48 cents a pound in 2002, to 52 cents a pound in 2003, the first quarter of 2004 saw an average price of around 59 cents a pound.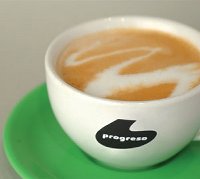 Image source:
http://www.progreso.org.uk/
However, as a recently published World Bank discussion paper reveals, market dynamics within the coffee industry are complex and require careful analysis. An interesting development is the emergence of a segmented product market, differentiated according to a variety of characteristics including, for example, distinctive origin, organic production and fair trade.
The fair trade lobby has certainly received a lot of attention of late as cappuccino consumers in the malls and high streets in developed countries have begun to voice their concern about the plight of coffee farmers in the less developed world. Ten years ago, the world coffee market was worth $US30 billion and farmers received about $US10 billion. Now the industry is worth $US60 billion and the farmers get about $US5.5 billion.

Image source:
http://www.adamsmith.org/
Berkeley, California, for example, has even considered banning the sale of coffee that is not 'fair trade'. Oxfam, meanwhile, has taken a decisive step and joined forces with the UK's largest independent coffee roaster, Matthew Algie, announcing plans to launch a chain of fair trade coffee shops, called Progreso, in partnership with coffee grower cooperatives. While support for the fair trade lobby has certainly grown in recent years, it faces opposition from free market economists like those at the Adam Smith Institute, who claim that fair trade fosters inefficiency and that, ultimately, this will not help farmers in less developed countries (LDCs).
Your task
The chief executive officer (CEO) of your company, a large multinational coffee roaster and retailer, has been advised by the board of directors that shareholders are becoming increasingly concerned about the poor public image of the company as a result of consumer complaints about exploitation of coffee farmers in LDCs. The CEO is unsure how to respond to this problem. She has read the Executive Summary of the World Bank discussion paper but remains confused. To this end, she is seeking the counsel of staff within the organisation and has called for submissions in the form of discussion papers.
Your brief is to explain the structure of the coffee industry and comment on recent trends using the relevant economic theory.
About 80 per cent of your discussion paper should be devoted to this task. The remaining 20 per cent should focus on possible strategies that the firm might take to alleviate the concerns of the shareholders.
The CEO is aware that a brief as broad as this is likely to attract a variety of proposals, but this is quite deliberate on her part as she wants to encourage people to come up with some creative solutions to the problem.
Guide to the assessment task
To help guide your thinking, you have discussed the matter with colleagues and, among other things, they recommend you contemplate the following:
When explaining the structure of the coffee industry, be sure to discuss both the long-term perspective and the recent changes that have taken place.
Use economic concepts to analyse the industry under four separate headings:

the trends facing the farmers who grow the coffee beans;
the changes occurring in the coffee roasting and retailing industry;
the trends in the consumer markets for coffee;
the responses from governments (or those that might be forthcoming).

Illustrate your explanations with diagrams, and before suggesting a strategy, or strategies, for the company, start by explaining to the shareholders the factors which might have caused the drop in farmer receipts from US$10bn to US$5.5bn over the last 10 years.
Important information regarding the preparation of your work
In completing this task, be sure to draw on the concepts and analytical tools you have learnt about during the module, making direct reference to subject materials (i.e. the prescribed text, courseware and other resources). Students who fail to comply with this directive will find it difficult to receive a pass mark.
You must upload a written response of 2,000 words (+/- 10%, excluding references) in 24 hours' time via the link at the module website. Take a look at this link now, so that you know what is required.
The piece of writing you submit should be referenced in the normal way, using an internationally recognised referencing system (e.g. the Harvard system and the numbered notes system). Students who fail to comply with this directive will not receive a pass mark.
This is a broad question that invites a variety of 'equally correct' answers.
High marks will be awarded for good, critical analysis, rather than for content merely cut and pasted from websites and other electronic sources.
At all times, ensure that you acknowledge all sources and text that consist of more than x words [as per institution's regulations] that are not your own.