Volume 9, Issue 3, 1995
Software for the Social and Behavioural Sciences
Mike Emslie

CTI Economics University of Bristol
Web Editor's note: since the below article was written, ProGAMMA has been replaced by
Science Plus
.
Introduction
Tracking down and investigating sources of useful software for research and teaching and learning is clearly a non-trivial task. At the Centre for Economics we have established a Software database for Economics related CAL and other software. Our European colleagues have also been addressing this thorny issue. In the Netherlands social science faculties at a number of universities are collaborating together with the Dutch government in supporting iec ProGAMMA an Interuniversity Expertise Centre which is l ocated at the University of Groningen. As a centre of excellence it has been in existence now for over five years and was joined by the faculty of Psychology and Educational Sciences at the University of Leuven, Belgium during 1994.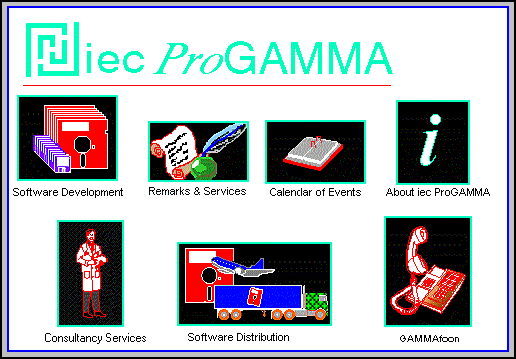 Figure 1
Iec ProGAMMA - What they do
ProGAMMA was set up with the original objective of stimulating the development and distribution of innovative computer applications in the social and behavioural sciences in Europe. The current members are: the universities of Amsterdam (UvA), Brabant (K UB), Groningen (RUG), Nijmegen (KUN), Twente (UT), the Social Science Department of the University of Utrecht (UU), and the Faculty of Psychology and Educational Sciences of the University of Leuven (FPES) and it is supported by the Dutch government.
The centre's primary tasks are described as the development of new software or the further development of existing software; the distribution of computer applications throughout the world; and the propagation of expertise and software among potential user s. A role that we can identify with, at CTI Economics.
Software Development
Staff at iec ProGAMMA seek to assist universities and research institutes in planning, (re)designing and distributing software. The centre focuses on software in the following fields: - computer-aided behavioural observation and data registration - statis tical analysis - simulation and network analysis - decision support systems In developing software, iec ProGAMMA pays major attention to standardisation, portability and user-friendliness.
A key feature of the way in which ProGAMMA work is in encouraging researchers from the participating universities to put forward proposals for the (further) development of software. These proposals are reviewed and when approved, the projects are supporte d by the assignment of a project manager, a scientific programmer, and the active involvement of the marketing department of the expertise centre.
International Distribution Network
iec ProGAMMA has an established international distribution and marketing network for scientific software. Both researchers and developers may now use this infrastructure to distribute their own software or software developed in collaboration with iec ProG AMMA.
In addition to co-operating with the various Dutch and Belgian member universities and other scientific institutions, iec ProGAMMA collaborates with a growing number of research centres from all over the world, and is a partner in several European and cro ss-Atlantic information technology research projects.
Sharing Expertise
To find out more about what is going on at iec ProGAMMA it is possible to subscribe to their newsletter which is biannual and published entirely in English. It is currently available free from iec ProGAMMA P.O.Box 841 9700 AV Groningen, The Netherlands Te l: +33 50 636900 fax: +33 50 636687 email: gamma.post@gamma.rug.nl The newsletter editor is Toine de Wit, who also welcomes contributions by way of articles of interest.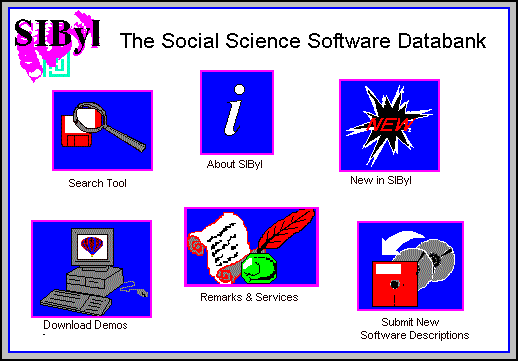 Figure 2
SIByl - software information bank
SIByl, the Software Information Bank of iec ProGAMMA, contains comprehensive information on computer applications for the social and behavioural sciences including a small selection of economics related items - some of which are mirrored in the CTI Econom ics Software catalogue in the appropriate section. Its avowed purpose is to reduce the duplication of programming efforts by providing scientists with a library of existing (special purpose) software.
The submission of software program descriptions to and retrieval of information from SIByl is free of charge. The entries include a functional descriptions; technical and data requirements; prices; availability of manual and interface; literature referenc es; and where the software may be obtained.
To contact the iec ProGAMMA using the World Wide Web use the URL:
http://www.gamma.rug.nl/
For specific information on the SIByl software information databank from the WWW, then use:
http://www.gamma.rug.nl/General/sibyl/sibyl.html
If you do not have access to the World Wide Web, it is possible to consult SIByl using TELNET TCP/IP To do so type:
telnet.suniec.gamma.rug.nl OR telnet 129.125.130.3
If you are using a modem the following standards are supported:
V21bis, V42,V42bis, V32, MNP5
The SIByl project team consist of:
Jan Veenstra, Project Manager;
Herbert Riekerk assistant researcher;
and Bert Straatman the database engineer
all of whom may be reached by telephone on: +31 50 636900.