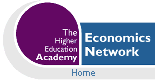 Volume 9, Issue 2, 1995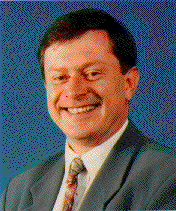 Guy Judge - Editor
---
Editorial
As more and more economists get excited by the Internet, and particularly the World-Wide Web, those who use computers in their teaching have started to consider how it can be used to assist teaching and learning. We know that there is a vast range of resources out there which can be searched for, retrieved and used by students working both on their own and in groups on student- centred project work. But as Kevin Macken and Ken Randall suggest in their paper on CAL and SuperCAL, the combination of the HTML hypertext protocol and friendly browsers such as Mosaic and Netscape offer a framework for Computer Aided and Computer Based Learning of all types.
Authors and developers can link together text, graphics, even sound and video clips to create impressive learning materials which students will need comparatively little training to get started with. Because of the hypertext links colleagues across the globe can contribute new components which can be connected up to earlier work (which can also be quickly and easily updated when necessary). At last a viable format for interactive distance learning appears to be available. Read Macken and Randall's paper to see how their proposed strategy works and contact Mike Emslie at Bristol if you would be interested in attending a workshop on the Teaching and Learning possibilities which have been opened up by recent Internet developments.
Other articles in this issue of CHEER will, I hope, stimulate you to think about some of the possibilities for teaching and learning to be found with a variety of different types of software. Adrian Boucher puts the case for a systems modelling approach to economics teaching supported by the use of STELLA. Barry Murphy demonstrates the potential of Derive, while Mike Rosser shows how spreadsheets can be used when teaching game theory.
With news, reviews and detailed reports on recent conference sessions, this is a packed and varied issue of CHEER which I hope you find both interesting and useful.
Guy Judge
Department of Economics, University of Portsmouth
---
Copyright 1989-2007