Volume 15, Issue 1, 2002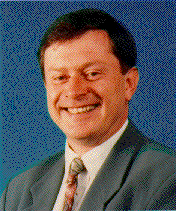 Editorial
This issue of CHEER has the usual mix of papers, short notes, conference reports and software reviews. As has become customary in CHEER, there are papers about the use of spreadsheets in economics teaching - but I think all three of these papers in this issue take us forward to a new level. Ross Guest describes how he uses Microsoft Excel and its Solver Add-In to teach undergraduate students about macroeconomic stabilisation policy via simulations with the Taylor-Romer model. He shows us that it is quite possible to introduce beginning students to the issues faced by policy makers in today's world, using implementations of recently developed models which are both simpler and more realistic than the traditional IS-LM-AS ones.
Eric Naevdal also exploits the Microsoft Excel Solver Add-In, showing how (small) optimal control problems can be modelled and solved. Two problems are used to illustrate his approach: one relating to real investment (a linear model) and one concerning fisheries management (a non-linear model).
Jocelyn Paine and Andrew Ramsden tackle the problem of how to publish spreadsheets on the World Wide Web. They show how their Model Master toolkit can be used to prepare, edit and run spreadsheet applications on the Web. They illustrate their approach using as a case study the Housing Market model, which is part of the Virtual Learning Arcade available at Biz/ed.
Chris Elven, Jean Soper and Simon Price describe the new BusEcon software, the latest creation of the WinEcon team. Here again we have software that has been designed to run inside a web browser, or via a Managed or Virtual Learning Environment such as Blackboard or WebCT. The authors explain how the new software has been developed to address the comments made by users of earlier WinEcon software, both in terms of content and delivery.
There are two software reviews in this CHEER. Ron Shone puts the latest version of TK Solver though its paces with a nice moral hazard problem used as an illustration. It is interesting how many cross-connections there seem to be in this issue - the review shows how TK Solver can be used with Excel and how results can be exported to HTML format. Our other review is by InÚs Herrero and Sean Pascoe. They examine some of the stochastic frontier and DEA software and discuss its use in the estimation of technical efficiency.
With news of recent developments at SOSIG from Debra Hiom and a full report of the computing sessions at the recent ASSA meetings in Atlanta from Jean Soper and Inna Pomorina, there is plenty of food for thought in this issue of CHEER. I hope you will find it interesting and informative. I certainly did as I read the papers myself, both when they were first submitted and after they had been amended in the light of referees' reports.
Guy Judge

Department of Economics, University of Portsmouth