Volume 12, Issue 2, 1998

IBSS Online: A specialist bibliography for social scientists
Caroline Shaw
IBSS Editorial Manager
What is IBSS Online?
IBSS Online is a networked service which gives electronic access to the full database of bibliographic records collected by the International Bibliography of the Social Sciences over nearly fifty years.
IBSS Online is a BIDS service:(http://www.bids.ac.uk/)
Where IBSS Online comes from
The International Bibliography of the Social Sciences was initially set up by the International Committee for Social Science Information and Documentation, a Unesco affiliated non-governmental organization. It began publishing bibliographies in 1952, with the aim of facilitating the flow of scholarly social science information around the world. It was particularly concerned that information should be able to pass across the Iron Curtain.
Until 1989 the IBSS was based at the Fondation Nationale des Sciences Politiques in Paris. It then moved to the British Library of Political and Economic Science http://www.lse.ac.uk/blpes/ - the library of the London School of Economics - where it is still based. At the LSE it is able to draw on the library's internationally renowned collections, as well as gathering data from other sources such as the School of Oriental and African Studies, the School of Slavonic and Eastern European Studies, University College London, the parliamentary libraries of Finland and Hungary, and the Japanese Sociological Association.
Who can use the IBSS Online service
Use of IBSS Online is free to any member of a UK higher education institution which is funded by the Higher Education Funding Councils, and to any member of an independent research institute which is recognised by the Economic and Social Research Council. A number of universities in Australia and New Zealand also have access to the service.
If you are unsure whether you are eligible to use the service, then please check with your local library staff.
IBSS data is also disseminated in print and CD-ROM media. Further information can be found at http://www.lse.ac.uk/IBSS/.
What can be found in IBSS Online
The IBSS Online service is unique in the chronologically extensive and internationally diverse material to which it provides access. The service offers:-
access to over 1,600,000 bibliographic records
records for social science journal articles and book reviews, and social science book and chapter records
c.2,000 new records added each week
records dating from 1951 to the present day
records reflecting social science research in and about every region of the world
around 50% of source journals are published outside the UK and USA
English language index terms for all records, and English language title translations for foreign language article, book, and chapter records
abstracts for around 5% of current article records, with plans to substantially increase this figure in 1999
access to full text of journal articles held in BIDS' JournalsOnline service
How to use IBSS Online
IBSS Online has a Web interface. For users with more recent versions of Web browsers, the enhanced Web interface offers additional functionality.
At the URL http://www.bids.ac.uk/ibss/ [Now at http://www.ibss.bids.ac.uk:8080/IBSS - Web Editor] you will be asked for your username and password. (see Figure 1). For UK users this will be your ATHENS password. If you are unsure about your username and password, please ask your local library staff.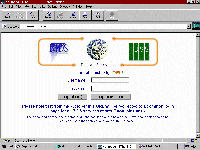 Fig 1. The log in screen for IBSS
Click above to download image

The default easy search screen will appear next. It offers the option to search for terms in the title, keyword or abstract field of the bibliographic record, and/or the option to search for a name in the author field. The default date range for a search is the last three full years plus the current year, but the range can be set by the user to anywhere between 1951 and the current year.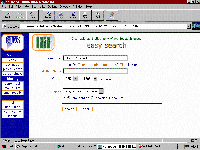 Fig 2. Using the easy search sceen
Click above to download image

Figure 2 Using the easy search screen
Search terms can be combined using Boolean operators:-
plus (+) or ampersand (&) for logical AND
comma (,) for logical OR
minus (-) for logical NOT
Terms can be made to increase their retrieval power by using the truncation symbol * or the wild card symbol ?
For example:-
german* as a search term will retrieve records containing terms such as german, germanic, germans, germany etc.
ira? as a search term will retrieve records containing terms such as irak, iran, iraq etc.
The advanced search screen offers additional search options. These include:-
searching by journal title and journal issue
searching for records added since a particular date
limiting searches by document type
limiting searches by language
limiting searches by broad subject area (anthropology, economic, politics and sociology)
Previous search sets can be combined with each other using Boolean operators, or re-run using different date, language, document type or discipline parameters.
Access to full text
When a set of retrieved records are displayed some will be accompanied by a "full text" button. Clicking on this button will take you to the full text of the article if your institution has a subscription to that journal in the BIDS JournalsOnline service. Around 100 of the journals which IBSS covers are held in JournalsOnline.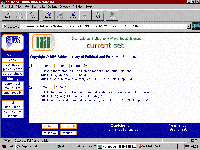 Fig 3. Example search results
Click above to download image

The full text article can be read on screen or printed out. All illustrations, tables, graphs and special characters will appear exactly like the original published version.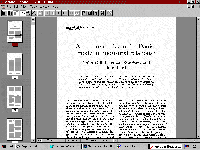 Fig 4. Viewing the full text on screen
Click above to download image

In conclusion
Every academic and every researcher will know of the vital importance of bibliographic research, whether it is to carry out general literature searches or to keep up to date with current publications. IBSS Online is a specialist social science service with a unique collection of internationally extensive bibliographic records that should prove to be of use to researchers in most areas of the social sciences.
For further information about using IBSS Online:
Bath Information and Data Services
University of Bath
Bath BA2 7AY
tel: 01225 826074
fax:01225826176
Email:bidshelp@bath.ac.uk

For further information about the IBSS:
IBSS Editorial Office
London School of Economics
10 Portugal Street
London WC2A 2HD
tel: 0171 955 7455
fax: 0171 242 5904
Email: ibss@lse.ac.uk