Volume 10 Issue 3, 1996

The Internet and Economics Education
Richard Young

CCSS, University of Bristol
The Internet has a long tradition in universities but over the last 18 months the rest of the world has been trying to catch up. It is now almost obligatory for a multinational to have its own web presence; publishers and newspapers, research institutes and university departments add information to the Internet on an almost daily basis.
As a result, the World Wide Web (WWW) with over 22 billion words held on some 30 million pages available online, 24 hours a day, offers lecturers and students a vast resource. As the web doubles in size every six months, the resulting volume of research, educational and primary data available electronically becomes almost unmanageable. Just how do users find relevant, quality economics resources appropriate to their needs?
This article looks at some typical search strategies, suggests the characteristics of exemplar Internet resources and outlines the ambitious thinking behind a new UK web site designed specifically for economics and business lecturers and students: Business Education on the Internet (biz/ed).
Typical Search Strategies
Everyone remembers their first surf on the Internet. Early enthusiasm soon gives way to world weariness bordering on skepticism. The time taken to unearth unexpected treasures becomes a burden and, as the novelty wears off, the typical user experiences rapidly diminishing returns, heightened feelings of frustration, exacerbated by an inability to locate relevant information. The opportunity cost of searching is too high!
The Internet's solution is to the location problem of finding a specific resource is the commercial search engines. Search mechanisms roam the entire Web indexing the content of billions and billions of pages. End users are able to undertake key word searches to help generate a manageable list of relevant resources for evaluation.
Take a specific example and suppose a user wants to evaluate economic data about the UK economy held somewhere on Internet. Using, say, Alta Vista's simple key word search and entering UK +economic +data returns about 20,000 documents matching the query, best matches first:
Coopers & Lybrand's UK economic update - May 1996 - [Coopers & Lybrand in Coopers & Lybrand's UK economic update: May 1996. Prospects. Official data released over the past month indicate stronger consumer spending but a... http://www.coopers.co.uk/managementconsulting/economics/ ukeconomic/ukeconomicmay96.html - size 9K - 7 Jun 96

UK Economic Forecasts UK Economic Forecasts. UK Economic Forecasts (UKEF) provides a concise working and reference document analysing economic change. The subscription offers... http://www.textor.com/cms/dHCEF.html - size 6K - 11 Jun 96

UK Economic Forecasts UK Economic Forecasts. Monthly Reports. UK Economic Forecasts (UKEF) provides a concise working and reference document analysing economic change. The... http://www.hillandknowlton.com/PUBLIC/ NONHKPUBLICATIONS/HENLEY/SUBPUBS/uk.htm - size 5K - 1 Oct 95

UK STANDARD INDUSTRIAL CLASSIFICATION OF ECONOMIC ACTIVITIES InterWorkNet (UK) Ltd. Standard Industrial Classification of Economic activities 1992. (Central Statistical Office). CROWN COPYRIGHT. Reproduced by the... http://fma4.fma.com/interworknet/siclev2.html - size 56K - 23 May 96

Economic Benefits of Eradicating H.pylori - UK Profile Economic Benefits of Identifying and Eradicating H.pylori -- a Profile from the United Kingdom. PEPTIC ULCER DISEASE. Peptic ulcer disease has a... http://www.cortecs.com/docs/UK_CASE.HTM - size 15K - 29 Apr 96
Listings of twenty odd thousand resources which meet the search criteria is clearly unmanageable. The essential skill becomes framing search terms to maximise the potential of returning the sought after resource. Users become expert in "reverse engineering", that is identifying the most likely distinguishing terms to appear in a given desired document.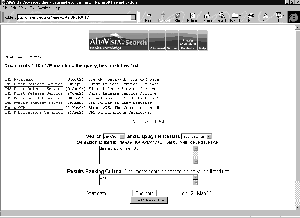 Figure 1 Using Alta Vista Advanced Query ranking facility
If
UK +economic +data
returns to wide a field of potential links, then better targeted criteria making use of Boolean search tools can help. For example Alta Vista's Advanced Query facility uses operators such as and, or not, and near and wildcards such as ? or *. The Alta Vista Advanced Query ranking facility is particularly helpful by sorting, weighting and filtering documents. Returning to our example, entering
data and econom* near UK
and placing
ONS
in the ranking criteria both excludes all documents where the term ONS does not occur and ranks them according to the number of times ONS appears within the resource. Alta Vista Advanced Search facilities are supported with online help which detail other strategies for constraining searches in Web pages.
Alta Vista is not the only commercial search engines worth a visit. For instance, Yahoo UK filters out most overseas listings.
Departmental Bookmarks
Commercial search engines can be used to narrow down a list of resources which satisfy search criteria but these documents may still be inappropriate, out of date, or simply of poor quality. For this reason, a number of UK economics departments are beginning to develop their own bookmark lists of recommended Internet resources.
Departmental bookmarks require an ongoing process of maintenance and development:
new sites are launched almost daily and a single new site can take up to an hour to investigate and evaluate thoroughly
existing sites are continually 'under development' and require regular 'checkup' revisits
as the departmental list expands, maintaining a transparent, easily navigable structure becomes a major commitment.
Information Gateways
Information gateways set out to catalogue and describe resources relevant to a given target audience. Economics is well supported by a number of quality information gateways and many readers will be familiar with Bill Goffe's Resources for Economists on the Internet and WebEc.
The breadth and depth of documents catalogued by these gateways is evidence of explosive growth of the web. The issue facing all gateways are:
quantity v quality: should all Internet resources be listed including those of 'marginal' potential value to the 'average' user?
criteria: what fair and certain criteria might be applied by a gateway cataloguer in determining the value of a resource to the user?
cataloguing: how do gateways staff the process of comprehensively cataloguing new and monitoring existing resources?
meeting unmet needs: how do services facilitate the creation of new resources?

Characteristics of Exemplar Internet Resources
The Internet is just one means of disseminating information. Every mechanism has its own strengths weaknesses. For most users, textbooks are best captured on paper whilst information requiring sound or graphics is more often suited to CD ROMs.
The Internet is at its best in mediating regularly updated small packets of information. Consider four well known sites


Be Your Own Chancellor! allows users to develop their own tax policy and learn more about how the UK tax system works.

The Friends of the Earth site includes an online environmental campaign which helps the browser to identify alleged' polluters in a given area of the UK. Entering a postcode brings back a map of a local area with polluting firms highlighted by red dots. Click the spot to jump to a table detailing legal and actual waste emissions and the company's address should the user want to write and object.

The Times Interactive supplies daily 'on-line' editions but its main appeal lies in its Internet archive search facility which offers key word searches across past 1996 issues. This facility is, of course, available by CD ROM but the Internet version includes up to the moment articles.

Biz/ed gives online access to UK macroeconomic statistics from the ONS such as prices, by month. Data can be selected and viewed on screen or brought back as comma separated variable (csv) for subsequent spreadsheet analysis


The above 'exemplar' resources combine relevant content and a degree of interactivity which indicate a coming of age for the Web.
Business Education on the Internet
The Institute for Learning and Research Technology at the University of Bristol hosts a number of major subject based information gateways including SOSIG, Desire and Biz/ed which seek to catalogue and index quality Internet resources for the economist.

Business Education on the Internet (biz/ed) is a dedicated UK information gateway for the one million economics and business studies students and staff.
Biz/ed is more than a sign post site directing users to external quality economics and business resources held elsewhere on the Internet. Biz/ed also:

hosts information sources not found anywhere else in the UK
includes user notes and assignments
seeks to network economics and business educators
Biz/ed also offers an online glossary of economics terms and a talk back feature where users can contribute news, views and their own resources to biz/ed An intelligent key word search facility means that users can quickly find relevant information.
Biz/ed Data
A major feature of biz/ed is its Data Service section The site hosts both original and mirrored data sets for economics, business and finance for the UK and overseas. Users can interrogate the data sets and many have their own introductory online notes giving examples of typical requests. Other sites offer similar data sets but biz/ed includes the option to bring back selected data as a csv file and accompanying user notes and assignments.
Biz/ed Listings
The biz/ed listing service offers a regularly updated guide to quality Internet resources for business and economics education. It provides a selection of exemplar sites arranged in the following areas:

companies
economics data
financial and business data
government and politics
the media
business and economics education
From January 1997 biz/ed will be using the ROADs database system to index Internet resources. A network of trusted information providers is being established, with password protected access to a web form, with various fields which help catalogue the resource. Cataloguers enter the document's URL (Internet address), title, describe its usefulness to the target audience and pick from a list of categories and key words to enable an entry to be indexed.
Once the form is completed it is uploaded to a server at Bristol University and the database of resources is instantly updated.

Biz/ed Contacts
The biz/ed network service offers an online directory of contacts for key national and regional contacts:

university economics departments
initial teacher training in business and economics contacts
publishers

Biz/ed and HE
The core service is currently targeted at the needs of students and staff up to first year undergraduate. A grant from the Joint Information Systems Committee (JISC) under the Electronic Libraries Programme (eLib) will extend the service to encompass research users and those developing and using materials for more advanced courses in the HE sector.
The centrepiece of the eLib biz/ed layer will be an extensive and comprehensive searchable database of electronic resources for business and economics. Other deliverables include:

development of existing and new on-line datasets. These will be both quantitative (e.g. an extension of the current economic and financial datasets) and textual (e.g. on-line company reports and profiles)
an on-line HE glossary covering technical terms
extension of the talkback feature of the biz/ed service to incorporate HE users
provision of materials for assessment
modest experiments in virtual classrooms and collaborative working between students, staff and non-resident participants (such as executive learners)
links to materials produced to support open learning by HE students

Next Steps
Biz/ed has appointed a full time research officer funded under the eLib, is about to undergo a rapid period of development:

the development of a network of contributing economics educators using the web as a medium for exchanging news, views and resources
sponsorship from Unilever will see the creation of a dedicated section for International users.
additional data sets from FT Extel, ONS and Reuters targeted at student users
adding materials to the tutor support and study skills section. Biz/ed is particularly keen to put in place a swap shop of teaching resources

The Internet offers an unparalleled opportunity to establish collaborative networks. This will be achieved by working with subject and professional associations, cti economics and biz/ed networks, individual departments and lecturers to set up an information gateway owned by the profession and for the profession. Options include:

discussion lists The Mailbase cti-econ and econ-business-educators lists are useful source of notices exchanged on issues affecting teaching and learning in economics and business
trusted information providers Biz/ed will be actively recruiting colleagues to help catalogue economics resources using a bespoke ROADs system on behalf of the economics community.
For further information about biz/ed contact:
bized-info@bris.ac.uk