Volume 10, Issue 1, 1996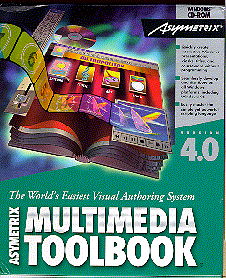 Multimedia ToolBook 4.0
and CBT Edition
Costs and Benefits
ToolBook is a PC based authoring tool and the flagship product of Asymetrix Inc. [now trading as Click2Learn.com, Inc. - Web Editor], the Seattle based company founded by Paul Allen the co-founder of Microsoft with Bill Gates. Allen still retains substantial shares in Microsoft and the close links with this company were clearly illustrated when ToolBook 1.5 was bundled free with the original Windows 3.0 package. However, unlike Hypercard which was bundled with the Mac, ToolBook 1.5 did not catch on and by the time Windows 3.1 came along ToolBook was no longer bundled. There were a number of reasons for this. Firstly, at that time the installed hardware base was simply not capable of running ToolBook applications at a realistic speed; secondly, only the runtime system was bundled rather than the development system; and finally, Asymetrix attempted to charge developers a royalty on each copy of a ToolBook based application sold.
Having missed its opportunity to take over the world alongside Windows, Asymetrix had to compete on an equal footing with other authoring tools like Authorware and Icon Author, and with general purpose programming languages like Visual Basic. Market pressures forced it to lower the price to give ToolBook a clear advantage over other authoring systems and to compete with numerous low priced general purpose programming languages like Visual Basic, Pascal and C/C++. Ahead of its competitors, Asymetrix abandoned their royalty scheme and ToolBook started to gain market share. They released version 3.0 (there never was a 2.0) adding substantially to the feature set and general ease of use, but maintained a relatively low price. Since then, Multimedia ToolBook 3.0 has become the dominant multimedia authoring tool for the PC and is widely used in education, training, entertainment and kiosk based application areas. More recently, Asymetrix released a CBT Edition of Multimedia ToolBook 3.0 to better address the needs of computer based training. The CBT Edition added built in question "widgets" - predefined, functional objects which could be pasted into an application without any programming. These widgets automatically linked themselves into a lightweight course management system to track student progress and record their marks.
Asymetrix has just released Multimedia ToolBook 4.0 and Multimedia ToolBook 4.0 CBT Edition. The CBT Edition has all the features of Multimedia ToolBook and adds questions and course management facilities. The new release is, in fact, closer to a 3.5 release because it adds relatively few new features compared with the quantum jump from 1.5 to 3.0. However, it does boast improvements in performance, new authoring aids, support for Windows 95 controls and partial support for Visual Basic extensions (VBXs). The tutorial and example materials are also much improved but by no means exemplar. A full description of the features of 4.0 and of all the existing features of ToolBook can be found on the Asymetrix web site at http://www.asymetrix.com.
For prospective CAL developers, starting afresh on a new project unrelated to any other, the decision as to whether to adopt ToolBook 3.0 or ToolBook 4.0 is clear. Both products have the same price tag, 3.0 is discontinued and 4.0 has less bugs and more features so 4.0 is clearly the one to buy.
By contrast, for 3.0 developers with a legacy of code and home grown tools, the decision as to whether to upgrade to 4.0 is by no means clear. Fortunately, the issues have been addressed before in great detail and there are lessons to be learnt from these earlier experiences in upgrading from 1.5 to 3.0.
Somewhere between ToolBook 1.5 and 3.0, UK higher education launched full ahead into the world's largest ever courseware development initiative - the Teaching and Learning Technology Programme (TLTP). More than half of the 76 phase 1 projects allocated a share of the #35m grant funding adopted ToolBook 1.5 as their development tool. This was by no means the first use of ToolBook for computer assisted learning (CAL) software development in the UK as there had been numerous smaller, unconnected CAL projects before. However, the experiences of the TLTP projects and the TLTP Economics Consortium in particular, in moving from ToolBook 1.5 to 3.0 and, possibly, to 4.0 serve to illustrate both the costs and the benefits of adopting third party authoring tools.
The TLTP Economics Consortium has recently released WinEcon 4.0 which was developed over a period of three years using, first ToolBook 1.5 and later, ToolBook 3.0. The software is being marketed internationally by Blackwell Publishers who sell annual site licences to use the software. Income derived from this partnership will be used to fund ongoing support and maintenance of the package over the coming years. Annual upgrades to the software are planned. In addition, the in-house development tools (a number of economics specific extensions to the ToolBook 3.0 authoring environment) are due to be released this spring to enable academics to author their own courseware modules in the WinEcon environment. The decision to upgrade to ToolBook 4.0 will have a direct effect upon both WinEcon, the WinEcon Tools and any software subsequently developed using those tools.
WinEcon currently runs under either Windows 3 or Windows 95. Asymetrix's assurances that ToolBook 3.0 would work under Windows 95 was one of the key factors in the Economics Consortium's decision to upgrade WinEcon from ToolBook 1.5 to 3.0 in 1994. However, there is no guarantee that ToolBook 3.0 will run without fault (or at least with the same faults) under future releases of Windows. Asymetrix have no intention of maintaining pre-4.0 releases of ToolBook although they will continue to support the software for the immediate future.
A number of technical features (eg. viewers) introduced in ToolBook 3.0 were particularly attractive to the project. These too were a strong incentive to upgrade. Also, the desire to maintain a relevant and current skills set for the project staff was a positive factor.
From calculations of the effect of cost, time and quality of upgrading to ToolBook 3.0 it was estimated that the overall impact on the budget was likely to be in the order of #20,600. At the time this estimate was thought to be on the safe side but in reality it turned out to be a fairly accurate figure.
Since upgrading to ToolBook 3.0, both the quantity of software and the staffing profile of the project have changed substantially. At the time of the 1.5 to 3.0 upgrade, WinEcon consisted of approximately 12 modules and the project employed 17 programmers and 35 economists. WinEcon now consists of 26 modules and the project employs 2.5 programmers and 0.5 economists.
The new features of ToolBook 4.0, particularly the execution speed improvements, are highly attractive to the Economics Consortium and upgrading would also be advantageous for all the non-feature related reasons discussed above. An initial attempt to upgrade WinEcon to 4.0 took about five hours and was, by and large, trouble free. However, an arbitrary change by Asymetrix in the width of borders around text boxes on the screen has thrown out a high proportion of WinEcon tutorial page layouts causing text to wrap in different places and figures in spreadsheets or graph labels to be partly clipped. The cost of revising WinEcon to put this right would be prohibitive at the present as each page would need retesting in full even if the changes could be done quickly. Therefore, unless Asymetrix can be persuaded to allow this new feature to be switched off in the inevitable service release 4.0a upgrade, WinEcon will remain a ToolBook 3.0 product for the time being.
This example serves to illustrate that there is a price to pay for the adoption of proprietary and closed standards, not just in CAL authoring tools, but in all application areas from spreadsheets through to programming languages. Taking a short term view, this is not a problem because most applications have a finite life. However, any application intended to last into the mid to long term must accept that software upgrades are a fact of life bringing both costs and benefits. In this respect, ToolBook 4.0 is no exception although it is still an exceptional authoring tool.
Simon Price
Centre for Computing in the Social Sciences, University of Bristol
The ToolBook 4.0 family of products are available in the UK from ICS Solutions Ltd., Tempus Business Centre, Kingsclere Road, Basingstoke, Hampshire RG21 2XG. Tel. 01256 469460, Fax. 01256 842362. The introductory price with educational discount for ToolBook 4.0 (non-multimedia) is £69, Multimedia ToolBook 4.0 is £399 and the CBT Edition is £529. Upgrade prices from 3.0 are £60, £340 and £450 respectively.