Volume 10, Issue 2, 1996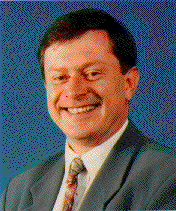 Editorial
As you will see when you read Mike Emslie's Report (on page 31) this is the last issue of CHEER with which he will be associated. He is leaving the CTI Centre at the end of July, heading for pastures new and certainly green, if not greener.
I should like to take this opportunity of thanking him for all the help he has given to me as a member of the CHEER Editorial Board since he took up his appointment in January 1994. I am particularly grateful for his work in establishing the on-line World-Wide Web version of CHEER. Some of you may be reading this editorial on-line. If not, take a look at the CHEER web pages ( http://www.ilrt.bris.ac.uk/ctiecon/cheer.htm) and you will see the fruits of his efforts. CHEER is now accessible to many people around the world with access to the web, as well as to regular subscribers of the printed version. This facility, together with the other web pages he has established at Bristol, considerably enhances the service which the Centre is able to provide in disseminating news, reviews and other information of value to computer using economists around the country and throughout the world. Thanks Mike, and good luck for the future.
Mike has also provided a number of software reviews for CHEER and in this issue he reviews Powersim, a simulation tool based on the system dynamics methodology. We also have reviews of Mathcad Plus 6.0 and Scientific Workplace 2.5 by Barry Murphy. As you will see, in the new software now coming on stream we are getting some very powerful tools for the desktop. In particular, note that you can work with Mathcad worksheets on-line on the Web.
The papers in this issue of CHEER come from authors in Spain and Holland, as well as Scotland and England. Recent issues have included contributions from the USA, South Africa and Germany. CHEER can now claim to be an international journal in terms of its authorship as well as its readership. So wherever you are, please do consider contributing, either in the form of a software review, a conference or workshop report or a paper outlining your experiences of using computers in your teaching. Just e-mail me at guy.judge@port.ac.uk for submission requirements or if you would like to get my reaction to your suggested topic. If you can afford the time and the travel costs please do try to come to the CALECO 96 conference at Bristol in September.
Guy Judge
Department of Economics, University of Portsmouth